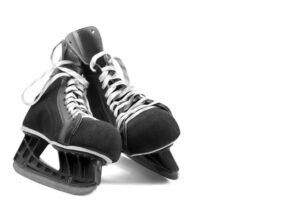 Have you ever wanted to try something new in your organization but were hesitant to start?  Maybe it's a process that you need to change or a technology you're considering investing in.  It can feel risky and uncertain. You don't want to break anything. And, that causes you to delay jumping in.
Recently, I was in Vienna, Austria.  As my friend and I strolled though the Christmas markets near the Rathaus (City Hall), we noticed people ice skating. But it wasn't on an ice rink. It was an ice path that meandered through the trees in the park. It was beautiful and unlike anything I'd seen before.  "I'd like to try that," I thought to myself, "but what if I fell and twisted an ankle or broke a leg or dislocated a shoulder?" A big part of my business is traveling to organizations for consulting, speaking or training. A broken/dislocated anything would be bad for business.  Hmmm…do I take the risk and try it?
Later, skating through the trees, I reflected on the thought process that helped me move forward and how to apply it in business.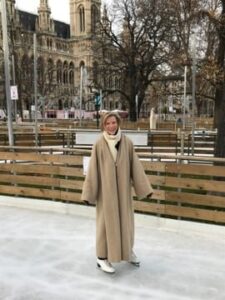 Make a financial commitment. If you're serious, you must buy in at some level – with your cash or your time. Buying a ticket, renting skates and a locker wasn't the same as purchasing software or hardware but it was enough to cause me to evaluate how badly I wanted to ice skate. In business, "free" can be too easy….to easy to not follow through. You have no stake in the new venture to motivate your behavior.  Commit and get going.
Take small steps and increase confidence. It had been years (a lot of years) since I ice skated. I laced the skates with trepidation. The voice in my head said, "Have you lost your mind? You're 57; you haven't skated in ages; you weren't a whiz at it; and you could jeopardize your work. This can't be a good idea." Take one step at a time with increasing confidence. Lace up the skates; walk slowly on the decking outside the icy pathway; step onto the ice and hold the rails; slowly gain confidence to haltingly move forward. You can do the same in your organization. Start with a limited effort –a small project, a handful of customers. Pay attention along the way and assess progress. Gradually, do more, go faster, implement farther into the organization as your confidence grows and results surface.
Grow skill. In my experience in working with other organizations, the hardest part of doing something new is having the discipline to keep up the new activity. It's far easier to revert back and do what has always been done. As you innovate, keep the faith. Now is the time to observe others who have more practice, actively assess progress, and keep trying. It helps to acknowledge small gains and discuss the experience with others on your team. That will assist them to maintain focus and keep up the effort (and it takes effort to do something new). I watched the little kids glide past effortlessly. Slowly, I remembered how to gently push off with my skates and slowly…oh so slowly, propel myself around the iced pathway. After a few laps, my skill grew. It was still precarious, but I was out there making progress.
Develop expertise. Once you've proven that the new approach (process, software or whatever is new in your organization) has value, start learning from the experts. Who has the best practice? What are they doing? How can you tweak your approach (while it is still pliable in the minds of staff) to position yourself to use this innovation to your best advantage?
In my skating example, I didn't get to the stage of developing expertise.  That wasn't the point. But I did successfully try a new activity in a way that managed risk.
You don't have to go to Vienna or go ice skating to try something novel in your organization.  What would you like to put into place that's innovative? Take a step back and find ways to step through the new implementation in a way the manages your risk. There's no need to risk that broken leg.
Copyright: gdvcom / 123RF Stock Photo