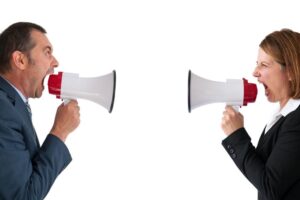 You are in a meeting with a group of people trying to discuss a project, program, course of action, you-name-it. But it isn't really a conversation. It's more like competitive talking.  One person starts a thought only to have their sentence stepped on by another.  Interruptions occur one after the other. Some are more competitive than others and dominate–or take over–the conversation.  Those who don't want to compete for a piece of discussion real estate sit quietly denying the group of their insight.
When you need to make good decisions, hear input from a range of sources, and balance competing demands, competitive talking is unhelpful and even destructive.  And…it is rampant. What can you do to convert competitive talking into collaboration talking where all are heard and get their ideas on the table?
First, let's consider your tendency. You are probably a Interrupter or a Waiter.  Interrupters are comfortable jumping into the fray; interrupting others; and making their point. There is some research suggesting that men more so than women are Interrupters and people in power are more likely to be Interrupters.
Waiters, on the other hand, are those who sit quietly waiting for an opportunity to make their point.  They consider interrupting to be rude behavior.  When they are interrupted, they quickly cede the floor. Again, there is some indication that women are more likely to be interrupted (by men and other women.)
Neither Interrupters nor Waiters are contributing to productive decision-making. Both are responsible for changing competition into collaboration. Which one are you?
Interrupters. If you notice that you are talking more than others in the meeting; you are comfortable leaping into discussion; you express your opinion when it pops into your head, then you are likely an interrupter.
You aren't helping the organization. Sure, you have good ideas and those ideas need to be heard.  Yes, you have good questions that need to be ask, but so do others. Recognize that you are part of the problem and change it.
Speak and stop. Don't get me wrong. I'm not suggesting that you should stop offering your opinion. I am suggesting that you offer it concisely and stop. Just. Stop. Or ask your question and stop.  Listen–really listen–for the answer.
Create space for others. You have a useful skill. You are comfortable jumping into a conversation. Not everyone is able to do that.  Practice noticing others in the meeting. Who is trying to speak up but can't quite get a word in? Help them out.  Speak up and turn the floor over to them.  It sounds like this, "I think John has been trying to say something. John, what do you think?"  Or, "Alicia, you look like you want to jump in.  Please do. " Or, "A few of us have been dominating the conversation. I'd like to hear from those who haven't had the opportunity." When you use your skill to create space for others, everyone wins.  The organization gets more ideas and better decisions, others learn to speak up and you are seen as a collaborator.
Waiters. You know if you are a waiter. You probably view interruption as rude behavior and you are loath to participate in it.  You may leave a meeting feeling frustrated because the same few dominated and others were left out. It feels unfair.
You aren't helping the organization. It's hard to interrupt when it goes against your grain, but unless you do, the organization misses your input and the wisdom that you bring from your perspective and experience. You need to get your voice in the room.
Dive in. Push yourself out of the comfort zone and interrupt. Once you do, keep talking until you get the floor. Make your point with calm composure.
Hold your ground. If someone starts to interrupt you before you finish your thought, have a plan. You can hold up a hand in a stop motion; hold up a hand with an upward pointing index finger (note–index finger) signaling that you need one more moment; you can say, "Just a moment, I'm not finished."
Competitive talking is a habit that needs to be broken or at least moderated.  It takes concerted effort by both interrupters and waiters. The quality of your decisions depends on learning collaborative talking.  Now, what was that you were saying?