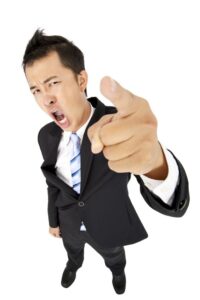 It's going to be a tough meeting. The topic is controversial and you feel strongly about the outcome.  Plus, there's a person in the meeting who routinely unnerves you. It's the kind of situation that could easily cause you to over-react and not behave at your best.  If you let the situation get the best of you, you are unlikely to achieve the outcome that you wish. What steps can you take to resource yourself to remain calm and in control of your emotions?
Recognize the Situation in Advance.  To manage yourself in situations that are challenging, it helps to know in advance when you will be in that situation.  It's not that hard to do as triggering events are repeatable.  Think about it. Who regularly gets on your nerves at work? What situations annoy you every time? Maybe it's when people show up unprepared despite your efforts to provide materials in advance. Or those people who just don't care and you do. The more you can identify the types of situations and the people that knock you off center the more likely you can prepare in advance.
Make a Plan. Before the meeting, take a break to clear your thinking and make a plan.
Understand your Communication Style. What is your natural communication style: direct, engaging, hands-off? Consider the people in the meeting. How do they typically communicate and will they react constructively to your style? How will you adapt your approach to enable them to be at their best?
Prime Yourself. Priming is a technique where you feed your brain positive information so that it is in that mindset. Because of the mind/body connection, priming the brain results in subtle but powerful shifts in behavior. For example, before the big meeting you choose the story to tell your brain. "I dread this meeting. Brian is always so difficult in meetings and I'm concerned that the meeting won't go the way I want."  Or, "This will be a good meeting. I'm capable of managing my reactions and I'll exhibit calm strength if others over-react. And, we'll accomplish our objectives." Priming with the second option is much more likely to yield the outcome you wish.
Use If/Then Planning. Consider examples of how the meeting could unfold and the actions you'll take to manage any problems.  Examples could be: If Brian starts interrupting everyone and dominating the meeting, then I will calmly ask that he allow others to offer their ideas. If Brian takes the meeting off-track, then I will restate the objective and re-focus the discussion. If the discussion begins to go in a direction with which I don't agree, then I will make an effort to be open to new ideas and objectively consider the best option.
Work the plan. You've primed yourself with positive information and you have a plan. Now, pay attention to yourself and others to stick with your plan. Notice your level of agitation. Is Brian getting to you? If so, notice your tension and consciously think about slowing your breathing; relax your jaw. These simple techniques help to rebalance the nervous system.  Also, attend to the level of agitation in others. Intervene if you notice someone getting anxious. Listen to and validate their comment and redirect the discussion so that the agitated person has a chance to settle their nervous system. Summarize the discussion frequently to make progress.
With a little preparation, you can transform a damaging situation into a productive one and you remain calm instead of becoming testy. Testy helps no one; calm helps everyone.