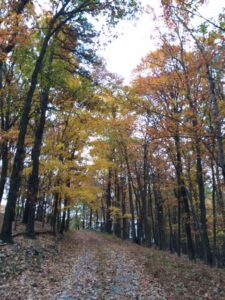 "I can't go away for a long weekend," my over-thinking brain proclaims. "You have so much to do – programs to prepare for, articles to write, follow-up calls to make." But, I promised my husband a few days away. We planned to drive to the mountains of West Virginia, less than three hours from home.
Happy cows dot bright green pastures below and the hills show off their yellow, orange, and russet trees. Birds chirp and flit past the window. As I run down the gravel driveway the white tails of scattering deer are all I glimpse. No alarm clocks or meetings command attention. Sitting here overlooking a beautiful valley, I think and write. Once again I realized that taking a break is good for business. Here's why:
Sleep is good. All too frequently, we don't get enough sleep. I'm guilty. It feels luxurious to sleep until my body awakens with no need for an alarm clock. And guess what…I am more productive after a full night's sleep. Focus and attention improve. It is likely the same for you. Your brain needs rest and when it doesn't get enough sleep, it finds a way to disconnect. Disconnection for the brain means of lack of focus and ease of distraction. We, you and I, are best able to serve clients, customers, and employees after a good night's sleep. Let's try to remember that sleep is better for business than checking off that last to-do item before falling into bed. Of course, there could be a number of contributing factors as to why you may be struggling to sleep. An old, uncomfortable mattress could be one reason, so you may wish to upgrade and treat yourself to the Best Latex Mattress 2021, according to this site, and see whether that helps you sleep soundly and wake up feeling ready to face the day.
Change of scenery invigorates the brain. Research shows that travel, particularly when you immerse yourself in it, promotes creativity. "New sounds, smells, languages, tastes, sensations and sights spark different synapses in the brain." My year living in France confirms that experience research; it was one of my most creative periods. And, it doesn't take a year. A small change of scenery can invigorate the brain. Writing here while overlooking the festive fall-colored hills is an energy boost. The different scenery resonates in the brain as something out of the ordinary. That causes the brain to sit up and take notice. The slightly elevated energy level brings fresh thought patterns and that, too, is good for business.
Quiet promotes thoughtfulness. Information is stored in the brain from across our experiences. But those experiences don't always surface when we need them. Distractions, brain clutter and activity keep the memories away. I notice that these few days away allowed me to be more thoughtful about my work. The clutter clears away enabling focus to return. Without the clutter of activity, the brain more easily identifies key activities that are important to your work and clients. You strip away the shiny objects to identify the few activities that wisely grow the business next year. Whatever your business, thoughtfulness is fleeting when you are constantly bombarded with demands that sap attention. The world – business or personal – comes into focus with space and time for clarity.
Yes, these few days were a good choice. I will return more rested, focused and clear. And that is good for business. What about you? Would your career or business benefit from a break? Can you afford not to?