Transform Technical Professionals Into Inspiring Managers
Get the training your technical professionals need to master essential management and communication skills.
Get Results from the Blue Fjord Leadership System
The Blue Fjord Leadership System is based on research that identifies the most needed skills for technical managers.
Our system is a management development program for first-line and mid-level managers. The program develops foundational and advanced skills needed to be the kind of manager for who an employee wants to work for.
The system also tackles tough management roles such as delegation, having difficult discussions and complex decision-making.
The Blue Fjord Leadership System is:
Based on neuroscience and grounded in interviews with successful leaders.
Modular to achieve a customized program for your organization.
Designed with adult learning principles so that new skills stick.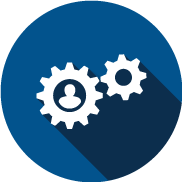 Designed with built-in follow-up because repetition is key to learning.
Our Proven Method for Success
Fjords are the dramatic intertwining of land and water. In some traditions, land represents the power of thought and intellect while water represents the equally powerful domain of intuition and feeling. Blue Fjord Leaders embody the skilled integration and application of both. That's what sets Blue Fjord Leaders apart. 
The BFL System provides high-value content and is designed to produce lasting results. We use an interactive format that is rich with real-world applications. Each session, whether in-person or virtual, is designed using proven scientific methodologies that result in more effective teams.
Excellence in Management Starts Here
The Blue Fjord Leadership System unpacks the essential skills every technical manager needs to succeed.
Foundational Skills Modules
This track focuses on the foundational skills every manager needs to be successful including self-awareness, relationship-building, and interpersonal communication skills. These modules are provided in all training programs. Build on these skills by adding modules for advanced management capabilities.
Advanced Management Skills Modules
This track focuses on the most requested and needed management skills such as delegation, having difficult discussions, complex decision-making and more. These modules build from the Foundational Skills modules for a complete training program for your staff.
Foundational Skills Modules
Technical professionals are strong, detailed problem-solvers but they may need guidance with interpersonal skills. That's why we start by building a foundation that supports all other management and leadership skills.
Module 1. Bridging the Gap to Leadership: Start with Self-Awareness.
Module 2. Read the Room: Create Relationships with and Adapt for Others.
Module 3. High-Functioning Communication Skills: Listening Between the Lines.
Module 4. Manage Your Reactivity and Theirs: Resolving Personality Conflicts
Advanced Management
Skill Modules
Through a series of personal interviews with successful leaders, we identified common struggles faced by new managers through a series of personal interviews with successful leaders. We took what we learned and created modules that address these challenges.
Module 5. How to Have a Difficult Discussion: Grow Your Confidence and Skill.
Module 6. Delegation: Managing the Monkey on Your Back.
Module 7. Complex Decisions: Why More Data Isn't the Answer.
Module 8a. Lead Through Change: Tips from Neuroscience.
Module 8b. Motivation: It's Not Just About Money.
Module 9. Presentation Skills: Communicate Technical Topics to Non-Technical Audiences.
Master Level Competencies
Module 10. Leadership Philosophy: Do You Know Yours?
Custom Training
Tailored for You
Your organization faces unique challenges and opportunities. By tailoring training specifically to the needs of your technical professionals, organizations ensure that these key individuals leave the program with the skills they need to be successful. By investing in custom training, your organization not only helps individuals but drives positive change throughout your organization.
By participating in training with Shelley, I have learned a lot about myself. I believe that I have become a better person professionally and personally.
Dr. Priyanka Alluri
Florida International University
It was the best training on presentation and communications I ever attended.
T.J. Bathras  
MD Transportation Authority
Excellent! In a data-centric world and fact-centric engineering industry, it was refreshing to learn that using your "gut" was not only acceptable but also essential to complex decision-making.  
Teresa Smith-DeHesus
Black and Veatch
Shelley does an excellent job breaking down the balance needed in decision-making and providing the neuroscience behind different thoughts/reactions, and then she provides the skills to master this balance.
Jason Crampton
City of Chandler
Engineer Your Organization for Success
Contact Blue Fjord Leaders to Schedule Your Training